Mephiston - Revenant Crusade
Mephiston
Black Library
July 7, 2018
Hardcover, Paperback, eBook
301
Plague Marines, Necrons, and Tzeentch daemons, OH MY!
I've had the Mephiston trilogy on the back burner for awhile now, but it wasn't until I saw the latest Coming Soon list from Black Library that reminded me to get the thing done. If there's another Blood Angels book coming that has both Dante and Mephiston in it, I need to be prepared. So this weekend I jumped on Mephiston – Revenant Crusade to start that ball rolling. I read the entire book in one weekend. I'm itching to start the final book, City of Light. If I didn't have two books to read before the next podcast, I'd be all over it. Darn you, responsibilities!
Previously in Mephiston's life, he was seeking answers to help seal the Great Rift, the Cicatrix Maledictum. His search led him to a planet overrun with Tzeentch-worshipers who didn't know they were worshiping Tzeentch (totes like Tzeentch, amirite?), and the daemon leading this revolution fled after the Blood Angels restored the planet. Mephiston is certain this is the daemon he is looking for, the one responsible for keeping the rift open. In addition, he's on a quest to understand what he is as the resurrected survivor of the Black Rage. Also, the rift has made Mephiston's powers almost uncontrollable, which worries pretty much everyone in the Blood Angels Librarius.
Is it possible Mephiston was brought back to life by a daemon or other warp entity as a pawn for the Ruinous Powers? It does fall into Tzeentch's modus operandi, after all.
Thar be Necrons
Mephiston's next vision that's TOTALLY NOT full of warp fuckery leads him to the planet Morsus, which happens to be overrun with a nasty case of the Necrons. Morsus just so happens to be a tomb world, and the Necrons woke up right around when the Cicatrix Maledictum opened. For the last three hundred years, the Morsusians have been fighting a losing battle against the Necrons. The only reason why the Necrons haven't wiped out the entire population is because they're barely paying them any attention. They ignore any humans they see when they're briefly above ground. When the Blood Angels fired at their ships, the Necrons ignored them until Mephiston shot one down. No one has any idea what the Necrons are actually doing aside from bombing the planet. For reasons.
The Necrons themselves didn't do much aside from prove how asinine their hierarchy and societal norms are. We weren't sure Indomitus did them proper justice, but evidently, the Necrons are rather silly. However, the Necrons' presence did highlight once more how the Necrons can "blind" psykers to the warp. The Necrons on Morsus were not becalming the neversea, however. They were literally blinding psykers' minds. They could still tap into the warp, but reaching out with telepathic methods and the like was gone completely.
Mephiston was never 100% certain that they would find the "dream, dreaming, dreamed" daemon on Morsus, but he knew that whatever was blocking his second sight was here. Once that cleared up, he could continue on his journey and save the galaxy.
Ever heard of the Sons of Helios?
Meanwhile, while Mephiston and Rhacelus are playing with Necrons and Imperial Guardsmen, Antros, our protagonist from Blood of Sanguinius, is off learning how he can "fix" Mephiston. Mephiston's power really bothered Antros last book, and he's been determined to help Mephiston ever since. His research has led him to the Sons of Helios, an unknown Loyalist chapter who seem to be resistant to the warp. Their home planet was engulfed by the Great Rift, but they still hover nearby on their ships, waiting to see what they can do to hold the hellions of the warp back.
Antros learns how protect his mind from the warp like the Sons of Helios, and he rushes off to Mephiston to teach him how to do the same. However, when you learn exactly what the Sons of Helios do to steel themselves, it's absolutely heartbreaking. When Antros learned how to do it as well, that's when I knew I could not go to bed until I finished this book. I did have some Ravenor flashbacks, and I'll be curious how Hinks wraps this up. I hope it's not too similar.
Either way, I know that [redacted] next book.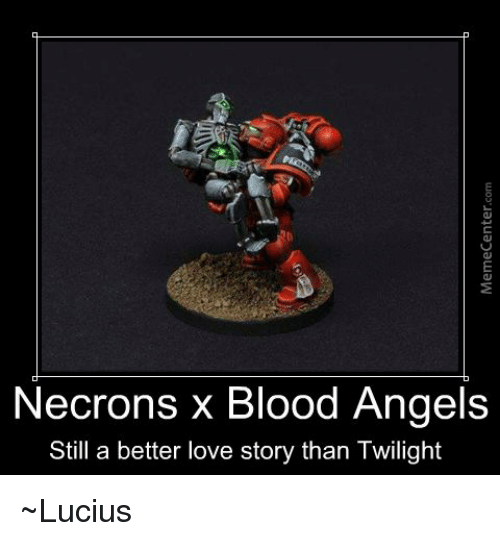 I really dig how Darius Hinks writes Mephiston. I liked James Swallow's Mephiston from the Blood Angels Omnibus, but Hinks has taken this character and given him a whole new life (pun intended). Not sure how I'm going to resist waiting to read City of Light, though. Maybe I'll have to read both books this week so I can get to it before the next book club meeting.
---
Mephiston – Revenant Crusade review copy was purchased by reviewer.