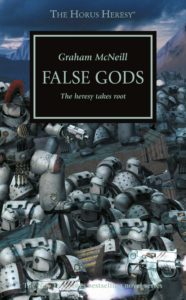 Horus Hearsay is dedicated to Keri's journey through the Horus Heresy saga. The chronicling of the Horus Heresy began over ten years ago, with currently 54 books in total, not counting The Primarchs series or the various short stories. Horus Hearsay will only cover the main novels.
I finished False Gods last week, and I'm still reeling from everything that unfolded. So much happened in Graham McNeill's story, and yet one of my biggest complaints was that it wasn't long enough. I know I have to explain that one.
The subtitle for False Gods is "The heresy takes root," which obviously played off of "The seeds of heresy are sown" from Horus Rising. Since Horus Rising was a slow buildup to Horus' rise to power and revealing that Erebus is just the worst, I expected False Gods to start Horus' turn. I didn't expect him to suddenly turn on a dime.
Erebus Rising
First Chaplain Erebus of the Word Bearers started the downward spiral for Horus at the end of Horus Rising. He stole a kinebrach blade from the interex and burned down their trophy hall for good measure. All hopes of uniting with the interex literally went up in flames, and Horus walked away in absolute shock. The effects of being Warmaster were weighing on him, but lucky for him, he had his good friend Erebus to offer counsel. I'm sure it was all great advice.
Loken even comments on Horus' new surly mood, and he connects it with Erebus' continued visit rather quickly. Erebus even goes so far as to embarrass Horus in front of his War Council and makes it seem like he's doing Horus a favor. It's all so he can goad Horus and his Mournival into wanting to go kill one of their own brothers. Then when Horus meets this fallen brother sworn to besmirch his name, the brother will stab Horus with the kinebrach blade Erebus took from the interex. The wound will never heal with science, allowing Erebus to suddenly have the only answer that will heal Horus: the warp.
But doesn't the warp corrupt? Why yes, it does! Erebus plans to use the warp to worm into Horus' head and turn him against his father. His plan is far more complicated than a Rube-Goldberg machine, but darn it if it doesn't work.
If Loken and Torgaddon were present when Erebus revealed the only thing that will save Horus, Erebus would not have had his way. However, they were off investigating about the weapon that the fallen brother used. Erebus was quick to use this moment to call a Lodge meeting and use his friendship with Abaddon to get the Sons of Horus to agree with him. Aximand wasn't comfortable with it at all, but he didn't want to be the sole vote against it. Everyone wanted to do whatever they could to save the Warmaster, they were even okay with Erebus admitting they would use forbidden sorcery.
Erebus certainly knew how to line up his chess pieces.
What Happens in the Warp Stays in the Warp
While the Sons of Horus took the dying Warmaster to the Temple of the Serpent, Erebus conveniently went somewhere else. He needed the Temple natives to help him get to the warp with Horus so he could start sowing those seeds of heresy.
I was heartbroken learning how Horus fell. Erebus shows Horus the future, the 41st millennium, where Horus sees Imperial citizens worshiping statues of the Emperor and various primarchs. He can't help but notice he's not among the statues. Readers and WH40k tabletop gamers know that the primarchs are the loyalist primarchs, but Erebus conveniently leaves that part of the tale out. All he shows him is that the Big E used Horus to ascend to godhood and then tossed Horus away when he no longer needed him. He tells Horus that if he continues being the good son, this is the path he will create: one where he is forgotten.
Honestly, that would get into anyone's head. No one wants to be forgotten. Horus would take that especially hard, since he's the one conquering worlds in the Emperor's name and building his Empire for him. He's going to do all that and not be remembered? His own father used him for conquest so he could stay on Terra and become a god? When he humiliated Lorgar for calling him a god? And claims to want to wipe out religion across the Imperium? Was that all a ruse so he could become a god and rise to glory? Yes, I can see where that would hurt. I can see where that might steer Horus away from continuing the Great Crusade.
Slow Your Roll, Bruh
However, plenty of other things happened in the warp don't make sense. For starters, Erebus pretends to be Sejanus when he visits Horus in the warp, Horus' most beloved son. When he learns that it is Erebus posing as Sejanus, Horus doesn't get as mad as I thought he would and should have. Logically, if Erebus lies about being Sejanus, then why wouldn't everything he just showed him also be a lie?
Instead, he gets upset with Magnus, who followed Horus into the warp to protect him from Erebus' lies. He's mad at Magnus because Daddy grounded him and told him no more psykery. Yet, here is Magnus, using his psyker abilities to hang out in the warp. It doesn't matter that Magnus revealed Erebus' lie or pointed out that Erebus was also doing something quite forbidden by Big E. Magus was not supposed to use his powers, but no one told Erebus he couldn't.
From all of that, Horus is suddenly out to overthrow his father. He doesn't think on it. He doesn't take a book or two to mull all of it over. He doesn't confront Erebus on any of it. Instead, he openly kills an ambassador agreeing to peace and compliance, starting a war they didn't need. He tosses Angron into the fray, which makes everything worse. He brings Fulgrim on his side rather quickly, makes plans to kill the brother he is closest to, and casually tells his council oh bee-tee-dubs, I'm overthrowing my dad. You best be cool with that. Naturally, Loken and Torgaddon are not present for that meeting.
In a way, I understood that logic. He's angry. He's hurt. Erebus has been a trusted adviser for some time now, he snapped at his men on Davin, saying since he's been Warmaster everyone has tried to tell him what he can and cannot do. So yes, he's not going to mull over his decision with anyone, because that's again letting others tell him what to do. Never mind the fact that he built the Mournival to be extra voices of reason, because he's gotten it in his head (from Erebus, undoubtedly) that people are always telling him what to do. Goodbye, benevolent Warmaster. Hello tyrant.
WTF
But that's not what blows my mind the most about the Warmaster's transformation. I described earlier the Rube-Goldberg machine that Erebus orchestrated for this brainwash. I assumed that Horus would never know the lengths Erebus went to to get him to that point. Wouldn't that make Horus question everything?
Evidently not, as it becomes obvious that not only does Horus know what Erebus did, but he's totes cool with it. He knows that Loken has the apothecary studying the blade that wounded him, and he gets Fulgrim to take it away. It's that moment that Loken realizes the Warmaster is lost to him, and he knows he and Torgaddon will be alone in standing against their brothers.
I can't help but wonder if the book was meant to be another hundred pages or so, because it all seems to happen so fast, which is NOT like McNeill at all. Like I said before, I fully expected it to take at least one more book before Horus would lead the charge against the Emperor. The series is over 50 books long (and counting) so far, so it seemed like there wasn't a huge rush to get the ball rolling. I appear to have been mistaken.